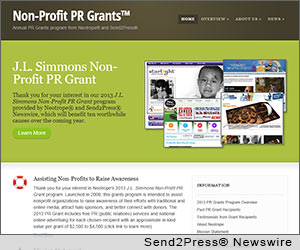 TORRANCE, Calif., Dec. 17, 2012 (SEND2PRESS NEWSWIRE) — California-based marketing and PR firm, Neotrope(R), today announced the formal launch of a dedicated web portal for the company's annual Non-Profit PR Grants program at http://prgrants.com as part of its 30 year anniversary. The PR Grant program was originally launched in 2000 to help assist U.S. 501(c)3 worthy causes to raise awareness, attract halo sponsors, and better connect with donors and volunteers.
"At Neotrope, our goal with the PR Grant program the past decade has been to share our talent and expertise to raise awareness for worthy causes. Our mission statement for the Non-profit PR Grants is not about shamelessly promoting ourselves, but selflessly helping to 'get the word out' about organizations doing good," said Christopher Laird Simmons, Neotrope CEO, and member PRSA and ASCAP.
For 2013, the Grant has been named after the company co-founder, the late Dr. J.L. Simmons, PhD, who passed away in 2003. Henceforth the Neotrope Non-Profit PR Grants will be known as the "JL Simmons Non-Profit PR Grant."
"The PR Grant program started in 2000 as a natural evolution of our efforts to support local and then national worthy causes by providing services in place of writing a check, as with our background in marketing and PR, we felt it more useful to help an organization 'spread the word' over giving them a small cash donation. The PR Grants program was started to allow charities to apply for an in-kind grant in addition to our own local interaction with worthy causes," added Simmons.
Neotrope has been honored to help many worthy causes, including Children Awaiting Parents, Move for Hunger, The Bob Moog Foundation, Starlight Children's Foundation, and dozens more.
A formal announcement about the 2013 grant program will be made Dec. 18, 2012. Learn more at: https://prgrants.com/ .
To view the 2012 Non-Profit PR Grant Recipients, you may view the announcement here: https://www.send2press.com/newswire/2012-02-0229-001.shtml .
About Neotrope:
Neotrope(R) is a 30 year old company, established January 1983 in California, USA. The family-owned small business specializes in brand identity, advertising, marketing, SEO, content development and public relations (PR). The creative team includes accredited PR pros (including PRSA members), working journalists, published authors, musicians, and other contributing talents. Neotrope was an Inc 5000 company in 2009, and has an A+ rating with the BBB.
* 300dpi image for media; screen shot of PRGrants.com home page:
https://www.send2press.com/mediaboom/12-1217-prgrants_300dpi.jpg
* 300dpi logo for media; Neotrope(R) logo:
http://Send2Press.com/mediaboom/11-1116-neotrope_300dpi.jpg
NEWS SOURCE: Neotrope
Send2Press(R) Newswire is the originating wire service for this story, issued on behalf of the news source.
SOURCED FROM: https://www.send2press.com/newswire/New-Web-Portal-Launched-for-Annual-Non-Profit-PR-Grants-Program_2012-12-1217-001.shtml