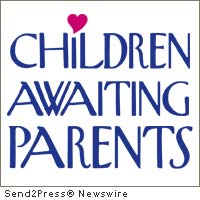 LOS ANGELES, Calif., Feb. 8, 2011 (SEND2PRESS NEWSWIRE) — Neotrope and its Send2Press service are honored to make Children Awaiting Parents (CAP) its second chosen recipient for 2011 of its semi-annual Non-Profit PR Grants Program. With this commitment, Neotrope aligns itself with CAP's mission to find adoptive homes for America's waiting children.
As part of this grant program, Neotrope is providing PR solutions, news dissemination, and search marketing for CAP to help raise awareness to both media and the public regarding CAP programs, sponsors, partners and other activities. In 2009, Children Awaiting Parents was also a recipient of Neotrope's PR Grant program. Neotrope/Send2Press is also promoting CAP to its customers and other partners in order to bring additional resources together to help CAP widen its awareness in the small to medium business space.
"Children Awaiting Parents is a national organization with a focus on helping every child that waits in the United States," stated Mark Soule, Executive Director of Children Awaiting Parents. "Neotrope/Send2Press allows us the opportunity to bring attention to these children on a national scale and we are so grateful for their professionalism and expertise."
"We've been honored the past couple of years in providing assistance for Children Awaiting Parents, in order to help them raise awareness for their good work with kids and families," said Neotrope CEO, Christopher Laird Simmons; a member of PRSA and ASCAP. "Hopefully our efforts have, and will continue to, in some small way help more people learn about CAP and their programs."
Additional information regarding the 2011 PR Grants for U.S. charitable non-profits can be found at: https://www.send2press.com/non-profit/index.shtml .
About Children Awaiting Parents:
Children Awaiting Parents, Inc. (CAP) is a national, nonprofit 501(c)(3) organization governed by a volunteer board of directors. For 38 years, CAP has been dedicated to finding adoptive homes for America's waiting children.
CAP's mission is to recruit foster and adoptive families across the United States for children who have been waiting the longest for a family. Our waiting children are often older, minorities, sibling groups who wish to be placed together, or children with emotional, mental and/or physical disabilities – children who are typically categorized as "special needs" or "hardest to place." To learn more visit www.childrenawaitingparents.com .
Upcoming events for CAP include the 2011 A Toast to Spring Wine Tasting, March 25th, at the Memorial Art Gallery in Rochester, N.Y. Learn more at: http://www.capbook.org/WineTasting.asp .
About Neotrope:
Since 1983 Neotrope(R) has delivered services to raise organization awareness including brand identity, marketing, public relations (PR), and SEO services. Neotrope is also an entertainment publishing company involved in books, music, software, and online portals. The company pioneered the concept of search optimization of press release content back in 1997. Neotrope was an Inc. 5000 company in 2009. More information: www.Neotrope.com .
About Send2Press:
Send2Press(R) (a service of Neotrope) offers best-in-class affordable Direct-to-Editors(TM) news distribution to working print and broadcast media, online and social media, and deep into search engines using proprietary Neotrope ContextEngine(TM) technology. Send2Press is unique because it was the first newswire service with staff entirely comprised of accredited public relations professionals, published authors, working journalists, and marketing experts. Learn more about Send2Press at www.Send2Press.com .
NEWS SOURCE: Neotrope
Send2Press(R) Newswire is the originating wire service for this story, issued on behalf of the news source.

SOURCED FROM: https://www.send2press.com/newswire/2011-02-0208-005.shtml